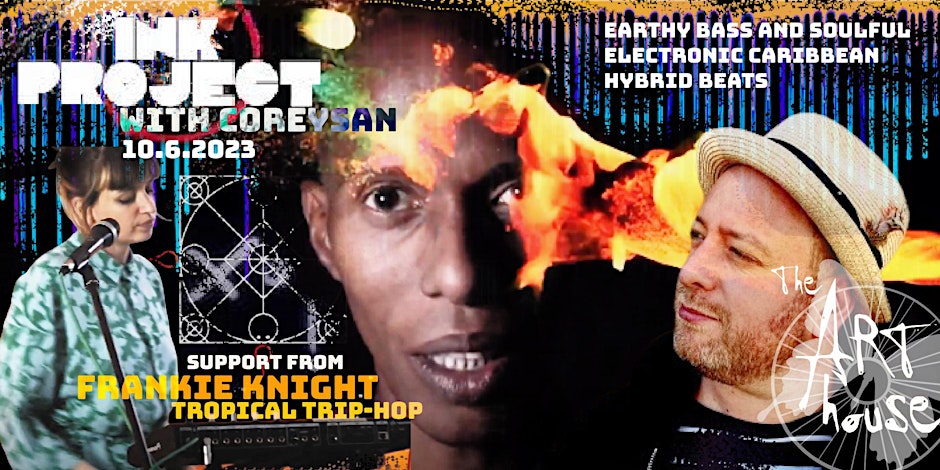 Join us for a night of electronic Caribbean hybrid music at The Art House on Saturday, June 10, 2023. The event features Trinidad-born Coreysan and Ink Project, with support from Frankie Knight.
Coreysan, also known as the 'Trini David Bowie', brings a unique blend of earthy bass, soulful beats, and raspy vocals. His music, described as 'Electronic Caribbean Hybrid Music', combines elements of Calypso with a storyteller approach to his lyrical compositions. Coreysan is also the bassist and backing vocalist for the LGBTQ-championing, sexism- and racism-bashing queen of calypso, Calypso Rose.
Ink Project, consisting of Coreysan on vocals, Frankie Knight on vocals, and Jez Lloyd on production/keys, has released three albums and a series of EPs. Their music morphs between a unique and powerful multicultural mix of global bass, psychedelic reggae/dub, with some covers from the likes of Massive Attack, Jah Wobble, Grace Jones, and David Bowie. Their third studio album 'Rhythm Spirit' was released last year, and they have toured extensively, supporting Red Snapper around the UK and playing at various festivals.
Supporting Coreysan and Ink Project is Frankie Knight, a Portsmouth-based artist known for her tropical trip-hop music that blends pop sensibilities with a love for bass music. Her music references soul, dub, folk, and jazz, and her debut album Blue Marble was released in 2019.
Here is a YouTube link associated with the event:
Ink Project – Feeding The Fire feat. Coreysan
This event promises to be a memorable experience for all music lovers. Don't miss out on this opportunity to witness these talented musicians live in action.