Thanks so much for your booking!   An email should be on it's way to you right now confirming your tickets.

There is no need to print the email, just give us the name of the person who made the booking when you arrive and we will check you in. Seating is unreserved.

Please take a look at our Patreon page and see how you can save money on future gigs whilst supporting our mission to bring grassroots creativity to Southampton. 
Some info for your visit:
Timings: For evening shows (unless otherwise stated), doors open at 7.30pm, the show starts around 8pm and there is usually at least one break in the performance.  Matinees will also have a door open time of about 30 minutes before the performance starts.  Please do arrive in plenty of time as, if you are late, you may need to wait to be let in or stand at the back until there is a good moment to show you to your seats.
The 'Quit your Jibba Jabba' Policy:  The Art House is committed to give you the best experience possible and to allow artists a supportive, attentive space to perform.
Please respect our no-talking policy during performances and make sure your mobile phone is switched off!  Just sit back and enjoy the show.
Refreshments: The cafe will be open throughout the evening serving drinks and snacks, which you can take with you into the Gallery.  Suppers are available from 6 – 9pm – if you want to eat before the show, please book a table here to ensure we can get you fed on time!

Travel information:-  Most parking is 5 minutes or less walk from The Art House. There is a small evening charge for parking, so please look out for that!
We recommend Kings Park Road car park: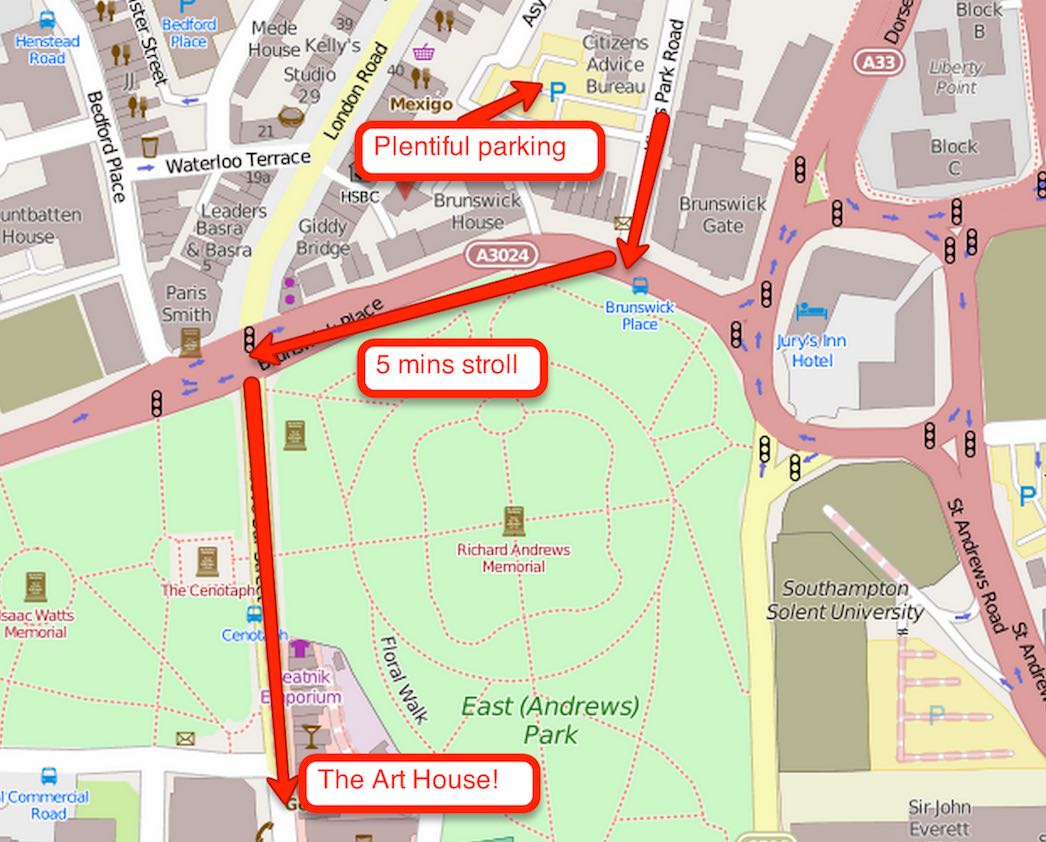 We are about 10 minutes walk from Southampton City Centre train station (head up the hill toward the Guildhall clock tower) and on the route for most city centre buses (the Unilink U1 stops virtually outside.)
Do you have a question about coming to this event?  Please click here for a list of our event FAQs
Accessibility info:-
This event will be held on our first floor, accessible by a wide staircase with a sturdy banner, the toilets are situated on the ground floor and the floor above.
Comfortable seating is provided for all ticketholders.
We want to support you if you need any assistance to come along to this event.  If you have any specific requirements or questions, please just contact us and we'll be happy to help.
Thank you very much for supporting The Art House and we look forward to seeing you!
Jani and Bik
xxx