Let the voices of local talent move and inspire you at this evening of performance poetry and music!   On the last Friday of each month (in December, it will usually be the last Friday before Christmas).  For upcoming dates visit our calendar.
Moving Voices is a space where you can share other songs and poems you've written, or ones you like.
You are also very welcome to just listen.
This event never fails to move us deeply, make us laugh, bring a tear to our eye and a smile to our lips.
For a taste of Moving Voices magic on Youtube,  click here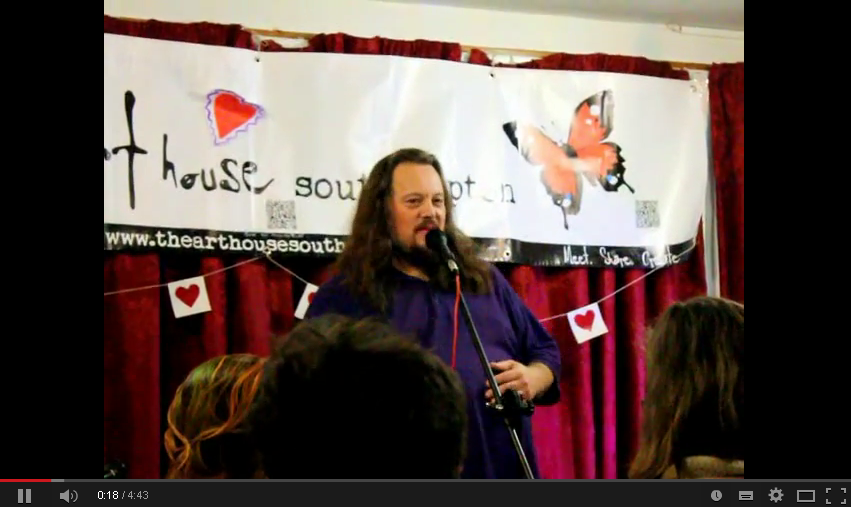 Practical details for open mic-ers
If you would like to perform, please arrive between 7 & 7.30pm and speak to the host when you get here.
There will be a break around 9pm, so if you do arrive late we'll try to get you in for the second half.   Performers, please keep your piece to around four minutes or less, so that there is time for everyone to participate.   We usually have time for everyone to perform twice, if they want to.
The doors open at 7.30pm  – the cafe is open right through from 11am so you can pop in beforehand and enjoy some supper or a snack.
Accessibility info:-
Events are generally suitable for adults, young people and older children – children must be accompanied by an adult at all times, however. Young children are also welcome to come along but be aware some poems and songs may contain adult content (although we try to keep these until after children have left!)
Most events are held on our first floor, accessible by a wide staircase with a sturdy banner. Comformatable seating is provided.  We regret that, due to space and other constraints, we are generally unable to relocate our events to the ground floor for those who require ground level access – so sorry.
Booking details: No need to book – just drop in!
Cost: This event is by 'Magic Hat' donation – we suggest £4/£5 as a guide amount.
Your donations are truly important and deeply appreciated, but the intention is that no one ever miss a meetup of this lovely group through lack of cash, so please never allow financial hardship to keep you away.
All donations help is to meet our runnings costs and continue to hold a space for emerging art.
Food & refreshments: There will be a licensed bar at this event selling yummy organic and fair trade drinks, as well as tea, coffee and soft drinks, snacks and suppers.
Please do not bring your own food or drink to The Art House.
Other information: This event is suitable for adults and young people.
]