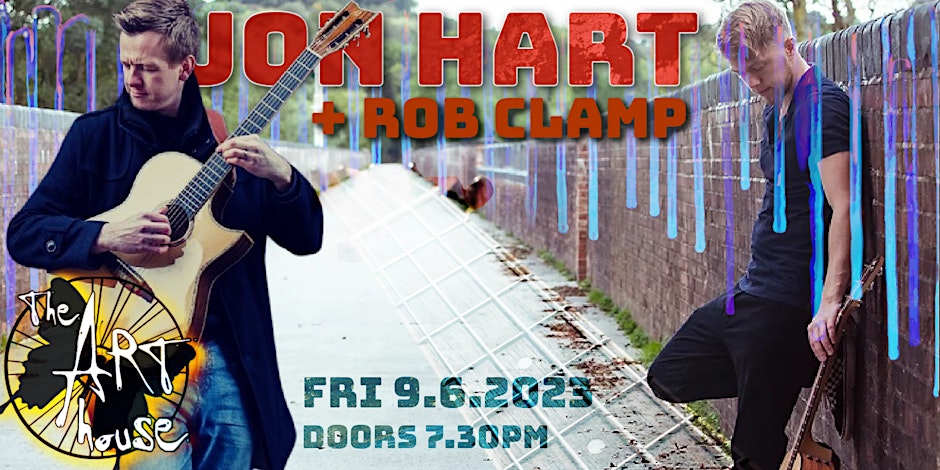 Prepare for an electrifying evening at The Art House on Friday, June 9, 2023, as Jon Hart and Rob Clamp take the stage. Jon Hart, an award-winning fingerstyle singer-songwriter, is known for his one-man acoustic performances that blend modern percussive fingerstyle guitar with gritty vocals and emotive songwriting. His talent has been recognized by Acoustic Magazine (UK), The Times, Guitar World, BBC Radio Folk, and Absolute Radio, among others.
Jon Hart's performances are a showcase of his astonishing skill. He has released several albums, EPs, and live performances, including 'Reborn,' 'Set Adrift,' 'Annual,' and 'Six String Therapy.' He has toured extensively across the UK, Europe, and the US, supporting Zhain and Orbital with his band. He has also collaborated with other talented guitarists for his UK tours.
Jon's performances are unique in that they can all be played live using just one acoustic guitar and a vocal harmony pedal, without any looping. He has also adapted to the pandemic situation by setting up an online festival via the Fingerstyle Hub Facebook Group, inviting 14 world-class guitarists to perform.
Supporting Jon Hart is Rob Clamp, winner of the 'Sofia International Singer Songwriter 2022' in Bulgaria. Rob's music is filled with real-life experiences, performed in his own compelling style, with acoustic guitar accompanied by a variation of foot percussion.
Here are some YouTube links associated with the event:
This event promises to be a memorable experience for all music lovers. Don't miss out on this opportunity to witness these talented musicians live in action.